Katie is one of our veteran parents who participated in the Integrated Family Delivered Programme from the very first day. Her baby, Constance was born at 29 weeks.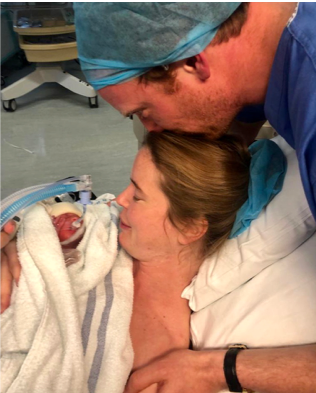 "Our integrated family care was established at birth with thanks to the fully committed and skillful neonatal team at Queen Charlottes and Chelsea Hospital.
Our little baby Constance was born at 29 weeks gestation after my waters broke following a complicated twin pregnancy. We were lucky enough to be allowed skin-to-skin in theatre directly after our C-section. This initiated an otherwise more difficult bond between the baby and I, since I wasn't physically able to visit her in NICU until the following day. We had 5 minutes of precious skin to skin – I got to connect with her despite the ventilator and wires and cradle her into my chest – a natural feeling for a mother and a memory that I will always cherish. I am sure it also helped my body to more quickly tune in to what had just happened – my colostrum began to do its stuff and enabled me to hand express enough to support Constance in NICU from the outset.
My husband couriered the syringes of liquid gold up to our baby until I was strong enough to meet her the next day. The advice and support we were given from the IFDC team from the outset ensured connection, excitement, love and hope prevailed. I downloaded the IFDC App which proved to be a complete life changer – I had all the information and advice I needed at the click of a button plus an easy place to store updates and information on our baby.
We began to feel part of the team of doctors and nurses looking after Constance – every decision was put by us and we always had a choice with regard to her care, having been given all the knowledge we required to make sure it was an informative one. Initially I was daunted by seeing our tiny baby in the incubator, covered in wires and tubes with incessant alarming and beeping going off from all the machines in her room. All I had to do was watch and learn from the devoted nurses who treated her like any other baby – talking to her, singing to her, stroking her and sharing information about her habits with us – they made an otherwise abnormal situation seem completely normal to us.
As I got stronger, they began to teach me how to do Constance's cares – I was patiently and gently shown how to change her nappy in the incubator, how to clean her fragile body, how to get her out safely to have skin to skin and how to tube feed her. They gave me the confidence to be a mummy and a nurse at the same time and I began to feel empowered rather than frightened. As breast feeding became established, I had a lactation consultant's devoted support and encouragement which is the only reason why I am still breast feeding her as I write this! It's a tough gig – pumping all the milk mechanically until your baby is ready to attempt feeding directly from your breast.
I could never have got through those weeks without the lactation support and general interest and encouragement from the doctors and nurses in NICU – special connections were made with everybody who treated our baby – they looked after her and me every day – not only did I have my own new family, I also had a NICU family. Integrated family care on another level.
I am passionate about the care we were shown and really hope as many mothers, fathers and babies as possible can have similar. With the right tools and the best support I truly believe the NICU journey can and should be a rewarding one for every parent. THANK YOU IFDC – YOU'RE AMAZING!!!!